Healthy Diets Can Prevent Heart Attacks, Obesity, Cancer and Diabetes
One of the most important things about healthy diets is eating a well balanced meal. Your meals should consist of a variety of foods, that contains the nutrients, vitamins and minerals that our body needs for optimum health. Healthy eating should consist of healthy foods high in complex carbohydrates, fiber, vitamins, minerals, low fat products, lean meats, poultry and fish. Fruits vegetables and grains should be part of any healthy balanced diet.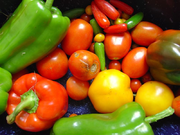 You have to control the amount of food you eat on a daily basis, don't consume more calories than your body can burn, or your body will start to build up fat.
Developing healthy eating habits are easy, you simply have to eat more portions of fruits and vegetables combined with whole grain foods (starchy foods are foods high in fiber, like pasta and rice)and a little bit of the high protein foods such as lean meat, skinless poultry, eggs and fish. It is the high protein foods that builds up fat. Try to stay away from fatty foods.
Healthy snacks are good alternatives for in between meals, such as fruit, whole grain-crackers, raisins, dried fruit and low fat yogurts.
Important healthy diets tip: Stay clear of sodas, pop and artificially flavored juices, they may contain more sugar than you thin. Drink plenty of water.
For the protection and development of chronic diseases it is important to eat a lot of green, orange or citrus fruits, like broccoli carrots and citrus fruits, The antioxidants and nutrients from these sources are vital to optimum health.

Stop eating any type of saturated fat, vegetable oils as this will only increase your cholesterol levels. Following simple diet plans and cutting back on the amount of food you eat on a daily basis will promote a healthy weight. Stop overeating, you can save some for tomorrow.
Healthy Diets Resources:
A very informative article about smart snacking from
Kids.org
---
We update Weight-On.com frequently, so please subscribe to our monthly newsletter, Weight Gain Info:
---
From Healthy Diets to Weight-on.com Home Page
---